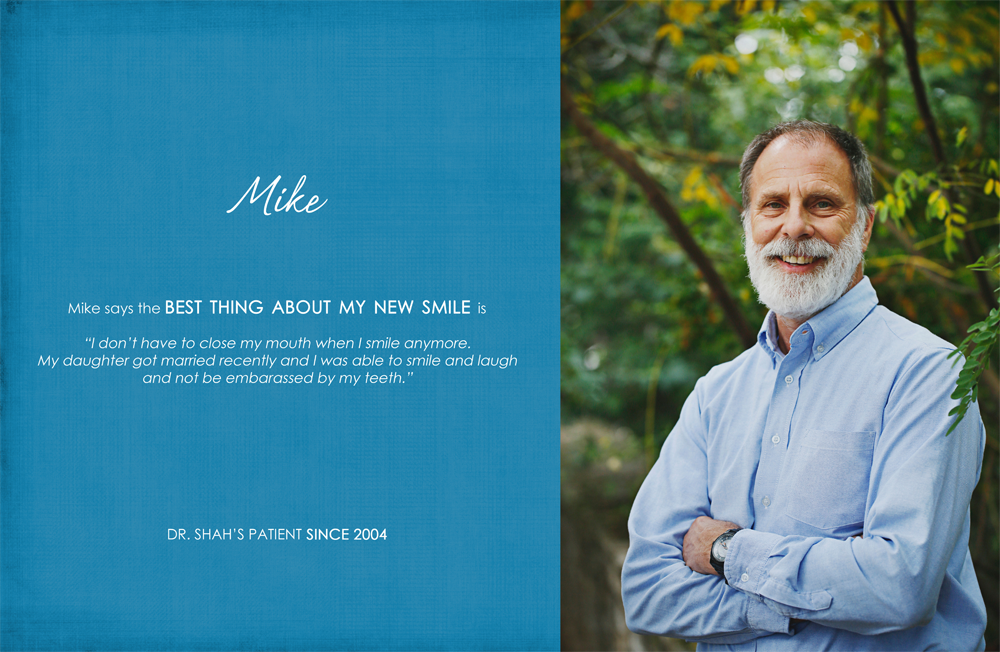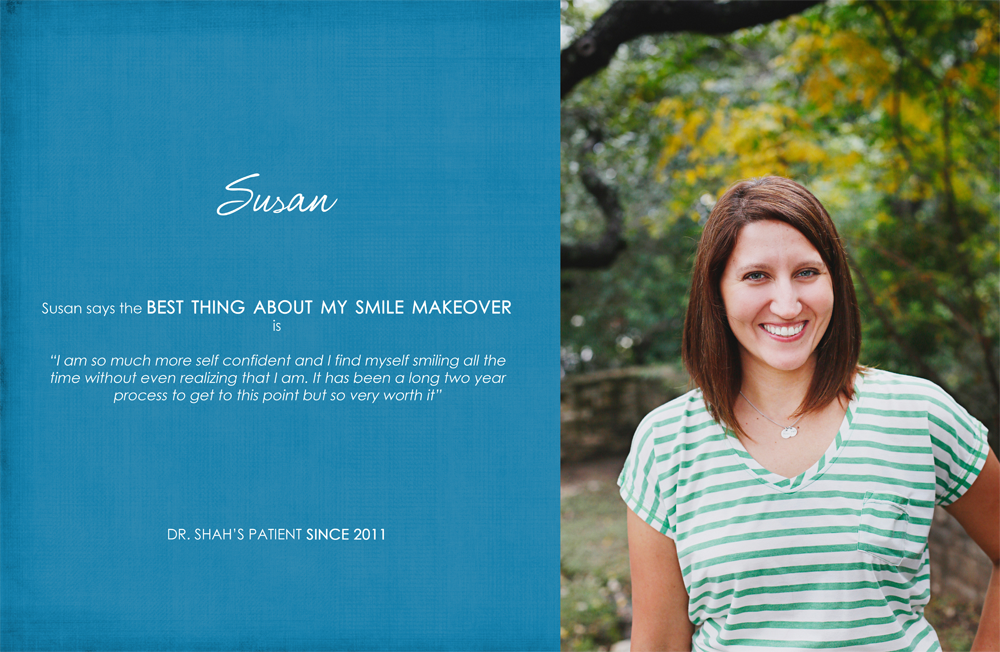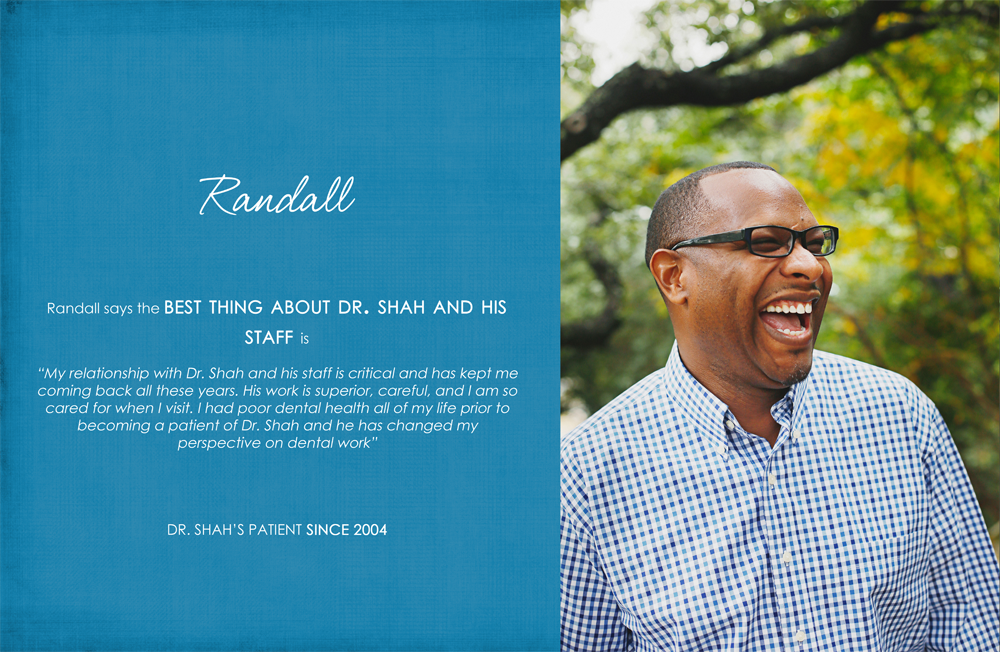 "I simply cannot say enough about the staff and level of care at Austin Dental Arts. Having come to their practice a year ago from another local practice where I spent the prior 15 years, they have started the process of correcting dental needs that were not addressed or even identified during that time. I simply cannot say enough about the staff, the level of care, and the environment they provide for their patients."
Kevin B.
I really enjoy the new office environment. The open layout and brightness of the space enhances the comfort level and makes it feel less like a typical 'dentist office' to me.
Dennis T.
Dr. Shah's office is amazing. The staff is so warm and welcoming, the facility is beautiful and most importantly they CARE. Dr. Shah is not only an amazing dentist but an 'artist' at that. They are very detailed and make sure that you look and feel fabulous. I had to get a new front crown and it looks even better than my original tooth. Hand's down my favorite dentist office/experience/staff EVER. You are not just a patient to them and it shows.
Kristina W.
Dr.Shah and his team are wonderful. Like many people, I have a terrible "dentist phobia". Dr. Shah cured me – he is kind, compassionate and VERY gentle. The office is beautiful and the atmosphere is calm, soothing and friendly – very zen. Dental work will always suck – Dr. Shah, Kelly, Debbie, Margie and Jeannie are a fantastic team and make going to the dentist a good experience. SIDE BAR -I got cupcakes last time I was there!
Lori F.
Dr. Shah is the most competent and personable medical professional I have encountered. The same goes for his wonderful staff.
Dan S.
I was anxious about the visit. I've not had a good dentist experience in a long time. I was attracted to the "Zen" part of Dr. Shah's website. I walked in & was put at ease~it was so calm. Kelly was terrific! She was terrific on the phone ~she was terrific in person! A keeper! Margie (please correct me if I'm wrong on that name) was also just lovely! Of course, I scared her to death & she STILL didn't yank all my teeth out when she could have! lol Then came Dr. Shah. I'm either going to marry him or adopt him! (It's a JOKE!) What a great guy. His passion for dentistry was evident. He is funny, he knows his stuff, he's centered and soulful. His eyes said it all. It was wonderful to be able to laugh so much in a dentist's chair with cotton and/or hands in my mouth! THAT was a first! (At one point, Kelly had to come in & find out what was going ON in there! lol) I can't believe I'm saying this, but I can't WAIT to go back next month!
Janey H.
Everything impresses me about Dr. Shah and his team, but what made the biggest impression is how understanding Dr. Shah was of my financial situation. Most people that I interact with in health care don't seem to care that money is tight for my family and me. I have already talked to all of my family members, and they are considering switching their dental care to him.
Justin L.
I've been using Austin Dental Arts since its inception. The service, professionalism, office environment, and dedication of Dr. Shah and his staff is excellent in every way. I highly recommend them.
Greg H.
You each ALWAYS make me smile when I am there–and I don't smile naturally at a dentist office. The soft, cozy blanket to keep me warm during my time in the chair is a reflection of how kind you are. Thanks!
Sharon D.
"SUCH a pleasant environment! Even first thing in the morning! Dr. Shah is just delightfully friendly and professional, as is the entire staff. Left in a great mood…and don't mind going back next week! Thanks."
Samm O.
Dr. Shah and his staff are the best !!! My initial appointment was in Spring, 2011, after a crown broke and a portion of the 'stick thing' was still in my mouth [front tooth]. I was scheduled for treatment within 1-2 days 😉 The temporary retainer fit perfectly, was tinted to match the color of my other front teeth and extremely reasonably priced. This past week, my canine baby knocked the retainer off of the kitchen counter and foster puppies were quite quick to begin chewing 🙁 Once again, the staff made an appointment for the following day. Impressions were made for a replacement retainer and Dr. Shah worked a miracle so that I will be able to utilize the damaged retainer until the lab sends my new one in 2 weeks. NOTE — thousands of dollars have been paid to 5 prior dentists for root canals, implants, retainers, etc. BIG EXPENSIVE FAIL. I have every confidence that DR. SHAH IS THE DENTIST that will, once and for all, correct this long-term problem. More than 5 stars !!!
Rosanna A.
Love you guys! I drive all the way from Pflugerville and it's worth it! Thanks!
Leslie S.
My experience with Dr. Shah and Jeannie was without a doubt the best dental experience I've had (or physician experience, for that matter). My needs to be heard and my need to understand the state of my oral health and related options were well-met. Jeannie is friendly, thorough, and gentle. I experience Dr. Shah as someone who takes to heart the individual needs of his patients and who considers, with care, the best and most appropriate approach to prevention/healing for each individual… that certainly is the case with me. He's approachable, kind, open, competent, highly-intelligent, and very present. The only regret one might have about seeing him is that if all is well, you only get to see him once every 6 months!
Tinamarie B.
A++ You all are my #1 recommendation for anything dental in Austin – I'll be referring people.
Trey S.
Everyone was extremely friendly. I like that Dr. Shah came out to introduce himself instead of meeting him while already in the chair. He explained everything that was going to be done very well and made sure to address my concerns. You can tell that he wants his patients to be comfortable and he and his entire staff want patients to be aware of their dental situation. I would not hesitate to refer him to anyone
Amanda M.
Dr. Shah and the entire staff are absolutely wonderful. He's very knowledgeable, caring and has a great personality. You can tell he loves what he does. I have complete confidence in him and his great staff. It's not often people actually enjoy going to the dentist! I'm always happy to refer anyone to him. Thanks to all of you for the great dental care. You're the best!
Jodie C.